 
O-motion Professional Upper Leg Tube - Sport Compression
Delivery time 1-10 days depending on country
Upper leg compression and sports sock is particularly suitable for sports with fast starting and stopping movements.
O-motion Pro Upper Leg Tubes vitalise the thigh muscles - are:
injury-preventing

promote endurance

stimulates blood circulation

regenerating 

promote healing
The special medical compression of this O-Motion sports stocking decreases from the knee to the thigh and is made of a temperature- and moisture-regulating Heil-Tech material.
Quantity: 2 pieces in a package
Personal Advice
Ex-Davis Cup player Udo Plamberger is available personally by phone or e-mail for you.
Fast Delivery
We pack and ship immediately after receiving your payment.
Free shipping from 130€ for AT
Free shipping for Austria! Cheap shipping for other countries!
The special medical compression of this O-Motion Professional upper leg tube is decreasing from the knee to the thigh.
> This prevents sports injuries, gives you more stamina during a match and also regenerates much faster after a tennis match or other sports session and also contributes to faster muscle healing for existing injuries.
> The muscle recovery is also faster because the blood circulation is improved and the muscles are warmed up at the same time during the sport.
> This counteracts premature signs of fatigue.
The sock is made of a breathable high-tech material that regulates temperature and moisture.
Ideal for competitive sports
The O-motion Professional Upper Leg Tubes for the thigh are adapted to the athlete's legs based on leg circumference and length. The extra strong compression effectively promotes blood circulation and helps prevent muscular problems in the thigh as well as slowing down muscle fatigue. In consultation with the treating doctor, the tubes can also be worn during regeneration after corresponding injuries. For both competition and regeneration, the tubes can be worn under the usual sports/cycling shorts or under everyday clothing without any problems. An extra advantage for cyclists and triathletes: The use of the Tubes is also possible with the existing shorts and the usual seat pad. There is no need to invest in new trousers or get used to a new seat pad. The tubes are held in place by a nubby silicone adhesive tape.
Messure!
O-motion Professional Upper Leg Tubes available in 4 different sizes which can be messured.
To get the right size take (c) 5 cm above the knee the extent of your thight and (d) 3 cm under the crotch.
| | | | | |
| --- | --- | --- | --- | --- |
| Extent (cm) | S | M | L | XL |
| d | 42 – 52 | 48 – 60 | 54 – 67 | 61 – 74 |
| c | 32 – 36 | 36,1 – 41 | 41,1 – 47 | 47,1 – 51 |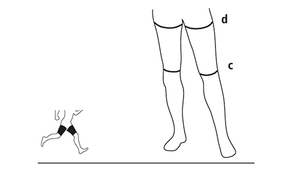 Messurepoints O-Motion Professional Upper Leg Tubes
 Colours
The O-motion Professional Upper Leg Tubes is available in 3 colours. There are 2 pieces in a package!